1. Sri Hartamas Park
Sri Hartamas Park is by far the place we picnic at most often. With a mini scooter/bike track, two playgrounds, a basketball court, a football pitch and multiple exercise stations on offer, this park is a firm favourite with us as well as with many residents of the surrounding neighbourhoods.
Highlights and tips:
The football pitch is enclosed and locked, but a big green field next to it is a perfect place. to kick the football anyway.
Benches to sit on, but no tables – a picnic rug is a must!
The closest toilets are at the Petronas Petrol Station half a block away.
Dogs seem very welcome here.
Location: Sri Hartamas Park is at Jalan Sri Hartamas 1, Sri Hartamas (find it as 'Sri Hartamas Basketball Court' on Waze).
2. Taman Metropolitan Batu
Taman Metropolitan Batu is a large gated park 10km out of KLCC on your way to the Batu Caves. Open daily from 6:15am to 7:30pm, it is a very popular place for the local residents to meet for a picnic, go for a run, or play at the two large playgrounds. In the middle of the park is a lake surrounded by a walking track, giving Taman Metropolitan Batu the feel of a slightly less manicured Desa ParkCity. That said, the grounds are well maintained, and there is plenty of space for little feet to run around on grass.
Highlights and tips: 
There are picnic tables, benches and lots of space for picnic rugs.
While a sign indicates that balls aren't allowed, we've seen families playing badminton and football without a problem.
If you're lucky, you might see a community performance in the middle of the park at the large open square!
Dogs are not allowed.
Location: Taman Metropolitan Batu is between Sentul and Batu Caves.
3. Titiwangsa Lake Gardens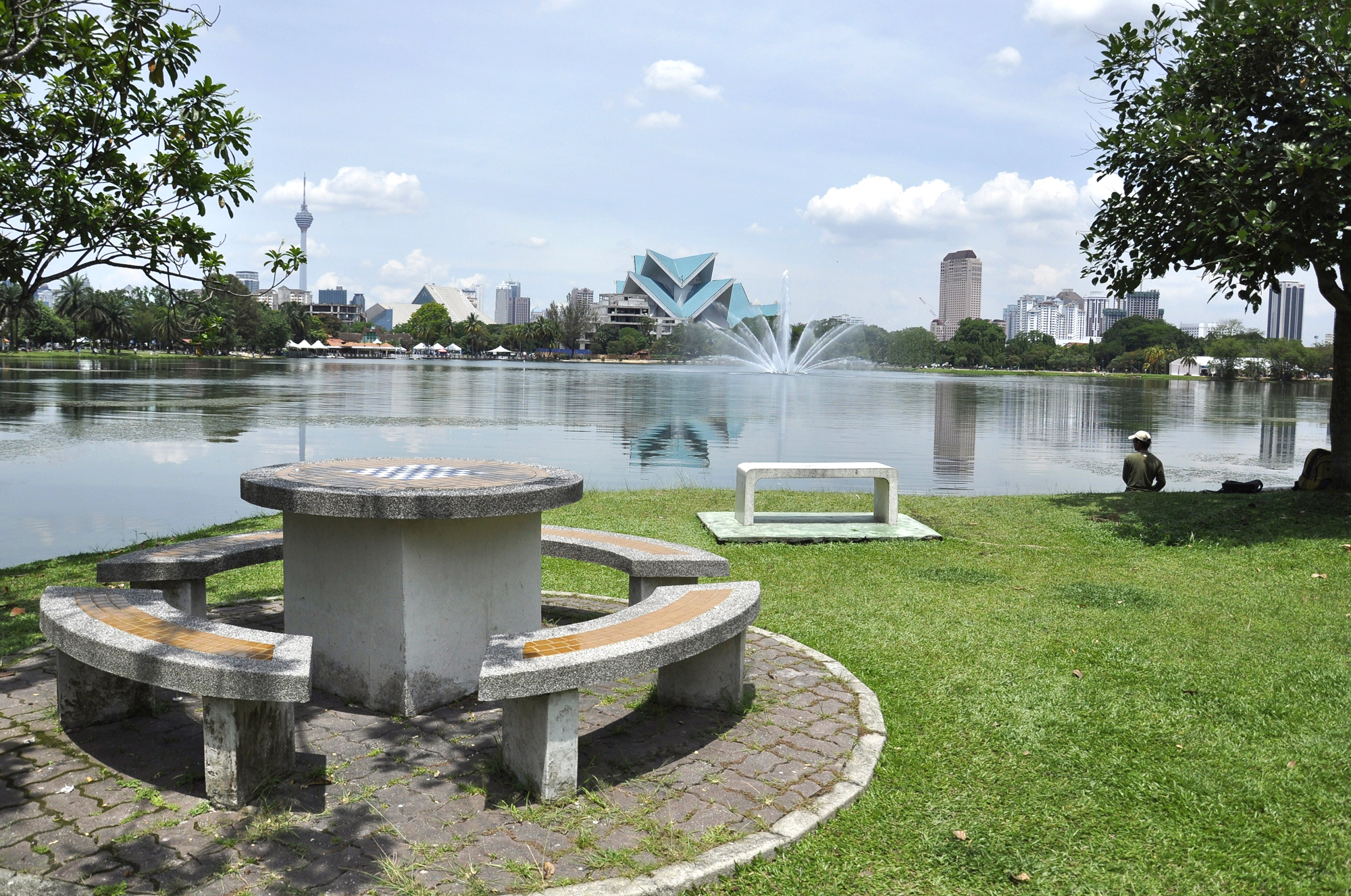 Another great picnic spot to bring your family along. Lake Titiwangsa is close to the city centre and next to Istana Budaya (Palace of Culture). The park offers lots of space for many activities like cycling, roller blading and horseback riding. There are also a few restaurants and food stalls and you can rent pedal boats as well. The park has got wide walking paths and many trees, so you can always find a spot in the shade. The park has a great view toward the city with his twin towers and KL tower, which creates a beautiful backdrop for some nice pictures.
Highlights and tips: 
Picnic tables available but you choose to bring a mat.
Parking is ok around the park, but better be early if you visit during weekends.
Location: Taman Tasik Titiwangsa.
credit: https://happygokl.com/